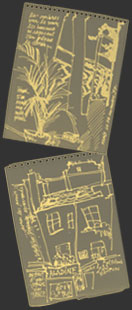 Donna Talerico's story as a painter started nearly 40 years before she was born. Her maternal grandmother, Hélèna Daming, came from Luxembourg to Matewan, W. Va., a 1919 war bride. Two generations later, Hélèna's stories of her cultured youth in Europe, with beautiful phrases in French, Flemish and German, took Donna far away from Matewan.
With the ink still wet on her degree in marketing, Donna headed for the "big city" of Cincinnati. She was an assistant buyer, copywriter and display artist in department stores before settling into a comfortable niche as a retail fashion illustrator, a job that would pay the bills for the next 20 years .
By 1983, Donna's career was solid enough to fulfill her dream of seeing Hélèna's world. Donna loved Europe at first sight, and before long her passion was focused on France. Many trips followed, Donna learned French and went whenever she could carve out even a few days from work.
In 1998, unlikely coincidences led Donna to a painting workshop in Sorèze. Emphasis on "the Fauves," and the idea of "color for color's sake" was liberating. The comfort zone Donna had built doing black-and-white fashion illustration was blown open by a passionate love affair with color that has been central to her work ever since. After this trip, Donna began to paint and couldn't stop. She was determined to make a living as a painter.
After 8 months, she'd accumulated enough work for a show. Her work was well received, several paintings sold, and she has never looked back. Numerous shows, receptive galleries, and a growing number of collectors affirm the powerful blend of talent, vision and celebration that permeates Donna's painting.